Since 2012 when we started sending some of our fresh puerh teas for lab testing, one result confused us from the beginning.   In many samples - where farmers had been adamant that they hadn't used any pesticides - one chemical seemed to pop up with some regularity.    
Anthraquinone is used industrially as a bird-repellant on some crops, and also in the production of cardboard.  Since it has no conceivable use on a tea plantation, traces of it in some teas surprised and confused us.   Initially we thought that there might have been some contamination of the samples while we sent them to the lab from the cardboard box or bag that we sent them in, but even sealing the samples in foil bags didn't help.
We heard anecdotal explanations from different sources, including one from the testing laboratory that it could come from wood smoke during the processing.   This seemed like a reasonable possible route for contamination, but we couldn't quite work out how wood smoke would lead to a positive test result for this chemical.
While searching further on this matter, we recently came across this research document by Dr. A. Romanotto & Dr. K. Gassert and published by PiCa - a German testing laboratory.
It makes for interesting reading, concluding mainly that it can come from 2 primary sources - from the environment (from particulate matter in the air) and from production - from heat from burning wood/coal and also from tea dust.   
Although I'm not aware of any Yunnan farmers using coal for tea production - the burning of wood for traditional kill-green step is fairly ubiquitous & would fit with these findings.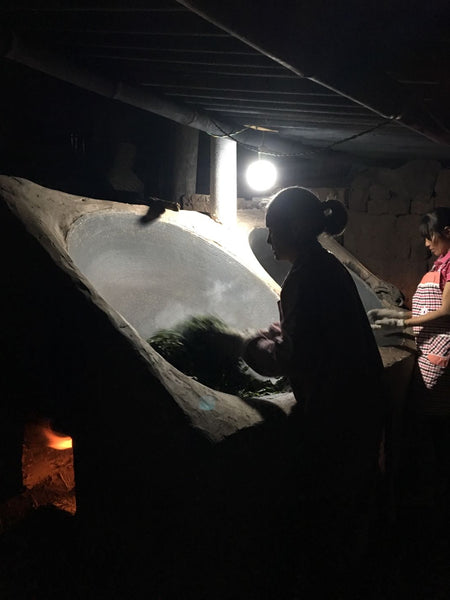 All this aside - we aim for all of our teas to be within the EU Minimum Residue Levels for the detected levels of this substance, but finally finding some detailed explanation why there can be traces of this substance puts our minds at rest a bit more.
For those interested - 
http://www.pica-berlin.de/wp-content/uploads/2017/03/Anthraquinone_tea_ENV_CRF2017_Romanotto.pdf