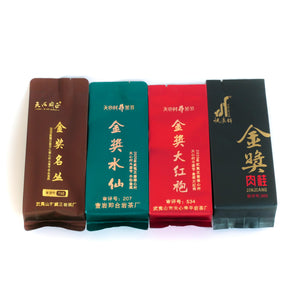 2020 - "Taste of Gold" Wuyi Yancha Sampler
Every year in November Wuyi farmers hold the Wuyi Zhengyan Hexin Village Tea Competition.  There are several other tea competitions in Wuyishan, but this is by far the most prestigious tea competition of the year and prizes are highly revered.  This year 794 teas were entered into the competition and were tasted blindly by a panel of judges.  198 Rou Gui, 226 Shui Xian, 235 Da Hong Pao & 135 Ming Cong.
Our aim with this set is to share with western tea lovers the standard of teas in these tea competitions and hopefully to provide some insight into what these tea competition judges deem important in Wuyi Yancha.
We bought 4 Gold Medal Winners, from each of their relevant categories.  Unfortunately these teas aren't cheap,  but we negotiated good wholesale discounts and can sell this set at less than the regular price for these teas.
In this sample set is:
1 x 8.3g Gold Medal Rou Gui -  武夷山市锦喜岩茶厂 Wuyishan Jin Xi Yancha Factory ( 陈仅喜- Chen Jin Xi)
1x 8.3g Gold Medal Shui Xian - 壹岩即合岩茶厂 Yi Yan Ji He Yancha  Factory ( 祝金兰- Zhu Jin Lan)
1x 8g Gold Medal Da Hong Pao -  武夷山天心秀平岩茶厂  Wuyishan Tian Xin Xiu Ping Yancha Factory  ( 梁秀平 - Liang Xiu Ping)
1x 8.3g Gold Medal MingCong: 武夷山市威正岩茶厂 Wuyishan City Wei Zheng Yancha Factory (陈思松- Chen Si Song)